Product: SOAIY 20 speed Rechargable Massage Gun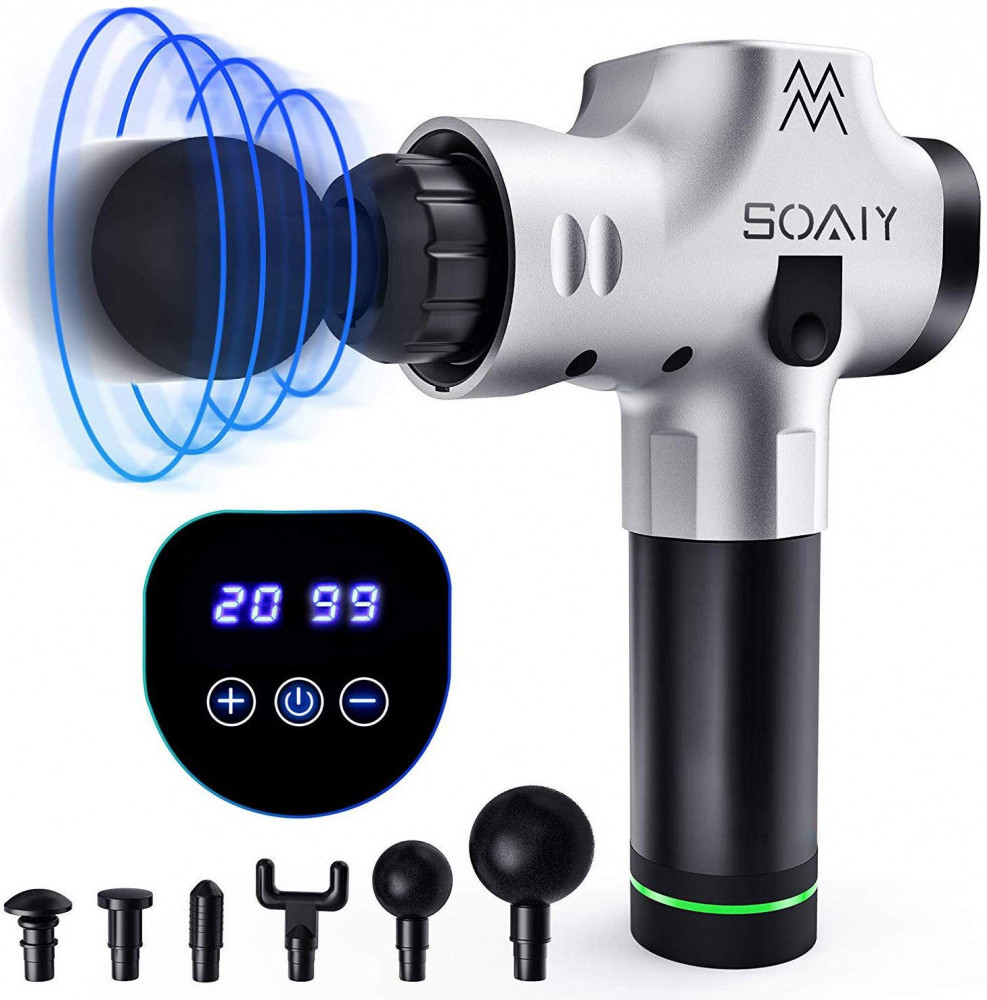 Price:  $109.99 (retail)
Cheapest Place to Buy: Amazon
Features:
1. Button: Touch Button
2. Speed Mode: 20 gears
3. Vibration Frequency: 400-3200rmp
4. Noise Level: 40db
5. Charging Voltage: 16.8v–1A
6. Battery Capacity: 2500mA
7. Charging Time: About 4 hours
8. Working Time: About 8 hours ( in
the first gear)
My Rating: 9 out of 10
---
How difficult is it to get someone at home to massage your back or
your shoulders? Do you ever feel like you just need something to really get in
there and relieve the pain?
Then you need to try a massage gun for pain relief at home!
What exactly is a "massage gun" and why should you get one?
A massage gun is a handheld rechargeable device that is used at home, at the gym or on the go to relieve muscle tightness and tension.
It's a handy tool to have around when you need a deep tissue massage but can't make it in to your therapist right away. The massage gun is fantastic for self-care.
No, it's not a professional massage
A massage gun is not going to be the same as going and getting a professional therapeutic massage but it is likely going to give you some sort of relief.
You will have to be the judge of how much pressure to use, what areas to use it in, how long to massage for and unless you have someone at home willing to do the massaging for you, you'll have to do that yourself too. This tool is designed where it's long enough and light enough to reach almost any area of your body on your own.
How do I use it?
Generally, you'll want to apply enough pressure to feel the gun massager firmly on the muscle. Too little pressure will be ticklish and too much pressure is unnecessary. If you want it to be more intense, then use a higher speed.
Apply the massage gun to any areas where you feel muscle tightness. Don't massage in one spot for too long. Muscles work together in groups, so broaden the area you are massaging to cover multiple muscles. Stay away from bony areas and work larger muscle areas instead.
Locate "trigger points" or areas where pain tends to localize. A trigger point may refer pain or a numbing sensation to other areas of body. If you find a trigger point, stay on it for 15 – 60 seconds. Once a trigger point is released, the pain will subside significantly.
Use different heads that come with the device for different areas and pressure.
I tend to get irritated with too long of a consistent vibration so I use the massager in short increments. Typically, 3-5 minutes at a time. If you are comfortable, you can certainly go longer than this or even do a full body massage.
Which massage gun is right for you?
All massage guns come with different settings for speed and vibration patterns. This can range from 4 settings to 80 settings. I personally don't see the need for an excessive amount of settings so more is not better in my opinion.
Massage guns also come with different heads for various parts of the body, ranging from broad to specific areas. 6 different heads should be sufficient to cover any area.
You want a massage gun that is not going to be too loud or disruptive. Most seem to be fairly quiet with a sound decibel of 40db.
Battery life and recharging time are approximately 6-8 hours of battery life with a lithium rechargeable battery and 4 hours to fully recharge.
All parts of the gun will come in a convenient case for easy storage and portability.
Looking at all the different options of massage guns, my recommendation is the SOAIY Massage Gun, 20 Speeds Super Quiet Rechargeable Massage Gun Muscle Massager, Cordless Handheld Deep Tissue Percussion Massage Gun for Athletes, Back, Neck Pain Relief with 6 Heads, Carrying Case.
The price is in the median range and less than some other similar quality massage guns. If you want a higher quality professional massage gun, you're going to pay quite a bit more. This is important if you're going to use it in a clinical setting but for home use, the SOAIY Massage Gun is more than sufficient.
I'm curious to know what your experience has been with pain relief using the SOAIY Massage Gun. Please share your experience in the comments!